Who is Brain Injury Services?
Since 1989, Brain Injury Services has taken a leadership role in developing community based programs and services for residents of Northern Virginia, Fredericksburg, and the surrounding counties who have experienced a brain injury, stroke, or concussion. Brain Injury Services takes pride in serving over 600 survivors and their families each year helping them build the skills and confidence they need to lead a productive and fulfilling life.
96% of the Brain Injury Services' budget is allocated to programs that support survivors

95% of clients believe Brain Injury Services has improved their lives

87% of clients have achieved their recovery goals at Brain Injury Services
Client Testimonials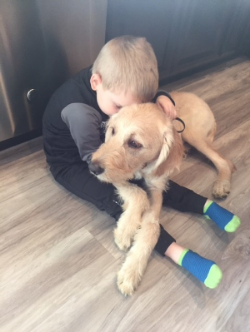 Peds client Piercen has a new best friend. With funds from Brain Injury Services, his family was able to get a service dog trained from Off Leash K9. With his new pal, Piercen has gotten more independent.
The duo takes walks around the neighborhood, play together, and even nap together.
"They are so sweet together and their bond gets stronger everyday," said Brooke Rice, Piercen's mother. "Definitely one of the best decisions we've made for Piercen and we couldn't have done it without y'all."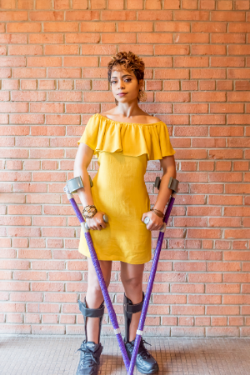 12:42 a.m., Tuesday, May 8, 2007— that's the moment her life truly changed forever.
LaToya Johnson was shot in the head, with a bullet that was meant for her boyfriend. The bullet landed inches away from the middle of her brain, on a vein, near the main arteries. The fragments landed behind her left eye and forehead.
"Since 2007, I have beaten incredible medical odds and overcome a lot of difficult challenges. I went from an adult infant, who couldn't sit or stand without falling over, to walking with a walker," Johnson explained. "There were many factors that helped me along the way and Brain Injury Services played a big role in that."
Funding
In collaboration with individual donors, corporate partners, foundations and private funders, Brain Injury Services is able to leverage their funding with government funding to create and implement unique services and expand our reach to more individuals who have experienced a brain injury. Brain Injury Services is funded in part by state general funds appropriated by the Virginia General Assembly and administered by the Department for Aging and Rehabilitative Services.
Major Accolades
2014  Fairfax Chamber of Commerce "Nonprofit of the Year"
2010  Civil Justice Foundation Award Winner of 20 years - "Years of Excellence"
Recognition by the House and Senate of Virginia's General Assembly for 25 Years of Service to Citizens with Brain Injury and their Families
Executive Director is a Panelist for grant awarded to BIAA, Guidelines
Accreditation

Brain Injury Services has been accredited by the Commission on Accreditation of Rehabilitation Facilities (CARF) since 2001. CARF certification is an objective measure of a variety of fundamental assets organizations like ours should have - including such basics as having effective leadership, employee safety programs, and many other critical processes and resources. It represents our commitment to continually improve our services and meet high standards in service delivery.